RONAN MAGUIRE
An Irish man who happened to land on his feet in the high alpine of NZ. Ronan has since made the mountains his home and Guiding, Ski Patrolling, Avalanche Training & Avalanche Forecasting his profession. Ronan has been one of the NZMSC's National Avalanche Forecaster, managed Snow Safety and the Avalanche Program for Mt Hutt NZ, been a member of the NZ Avalanche Education Advisory Committee, trainer of both recreational and professional avalanche courses plus an Avy Search and Rescue Dog handler. For the past 7 years, Ronan has been with Whiteroom becoming our General Manager plus overseeing all guide operations, avalanche assessment, and forecasting. He looks forward to sharing his passion for the Mountains with you and enjoying some good turns together.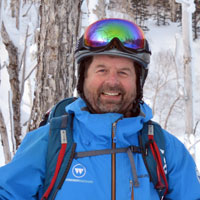 Ross Mcswiney
Ross heads up our Whiteroom Japan operations. He is responsible for establishing Whiteroom Guides and ensuring Whiteroom runs to the highest of standards. Ross has over 26 years experience as a Thredbo Ski Patroller, National Ski Patrol Trainer & Examiner, Australian Ski Patrol Advanced Emergency Care Course Trainer & Examiner, Avalanche Education Trainer,  plus has skied 19 years in Hokkaido & Northern Honshu, 13 as a professional ski guide.
He holds his NZ Avalanche Stage 1 Professional, Certificate IV Training & has been a professional  Avalanche Awareness and First Aid Trainer for many years.