Whiteroom Tours was founded on the principle of creating tours & ski holidays that are fun, adventurous and allow you to experience each destination from a local's perspective.
From these humble beginnings and with the help of our growing client base, we have grown into a fully licenced travel agency specialising in guided ski and snowboard tours, ski and snowboard holidays, mountain guiding, instructional tours, group travel, as well as personalised travel packages to Japan.
Whiteroom prides itself on providing the highest quality guiding and tour products. We have achieved this by building a professional team of hand-picked ski and snowboard guides from around the world with exceptional local knowledge.
Our team members originate from a variety of professional ski industry backgrounds but all have one very important thing in common, their love of the mountains and Japanese powder.
At Whiteroom, our number one priority is your safety, which is why all customers guided outside the resort boundaries must personally carry appropriate avalanche safety equipment.
All our guides are certified in avalanche safety management and first aid, plus with mountain guiding accreditations or ski patrol background, you can be assured you are in safe hands.
Whiteroom guides receive ongoing training in first aid, backcountry travel and avalanche safety with their respective country's mountain safety associations & through our in-house training programs.
Daily guide meetings are held in each area to analyse the days' weather, snowpack and prevailing conditions. Combined with our seasons' knowledge bank we make the best decisions to ensure you ski or ride the best lines & maximise your experience.
POWDER, CULTURE, ADVENTURE!
Paul Ellis
PRESIDENT, FOUNDER & GUIDE
After seasons working in the US, Australia and Japan, as well as expeditions to the mountains of Central Asia, Paul started what was to become Whiteroom Tours in 2007 with an idea to create a website around helping those venturing into the backcountry around the world. Backcountry Logistics was created and soon born Backcountry Snow Tours, which had tours planned for Pakistan, Gulmarg and Furano, Japan. Seeing that the market wasn't really there for backcountry tours to remote locations yet he moved to offering a resort based Japan tour and sold ESS Boardstore owner Mark Chandler on the idea. In 2007 the first tour was run to Furano. In 2010 he founded Whiteroom Tours with the aim showing more people the areas in Hokkaido he came to love. Today Whiteroom Tours has grown into a Travel Agency, Tour Operator and Guiding Company with more than 50+ tours and guiding throughout Japan. Paul holds his CAA Avalanche Level 1 Professional and Wilderness First Aid certificate.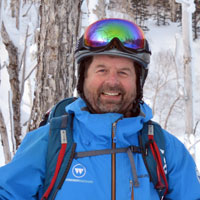 Ross Mcswiney
JAPAN CEO & GUIDE
Ross has seen more winter than most people see in two lifetimes. Having first guided in Japan with Whiteroom Tours in 2012, he heads up our Whiteroom Japan operations. He is responsible for establishing Whiteroom Guides and ensuring Whiteroom runs to the highest of standards. Ross has over 26 years experience as a Thredbo Ski Patroller, National Ski Patrol Trainer & Examiner, Australian Ski Patrol Advanced Emergency Care Course Trainer & Examiner  plus has skied 19 years in Hokkaido & Northern Honshu, 13 as a professional ski guide.
He holds his NZ Avalanche Stage 1 Professional, Certificate IV Training & Assessment, Remote / Advanced / Advanced Resuscitation / Occupational First Aid and is also an Avalanche Awareness and First Aid Trainer.
RONAN MAGUIRE
JAPAN GENERAL MANAGER, AVALANCHE FORECASTER & GUIDE
An Irish man who happened to land on his feet in the high alpine of NZ. Ronan has since made the mountains his home and Guiding, Ski Patrolling, Avalanche Training & Avalanche Forecasting his profession.  Ronan has been one of the NZMSC's National Avalanche Forecaster, managed Snow Safety and the Avalanche Program for Mt Hutt NZ, been a member of the NZ Avalanche Education Advisory Committee, trainer of both recreational and professional avalanche courses plus an Avy Search and Rescue Dog handler. For the past 7 years, Ronan has been with Whiteroom becoming our  Japan General Manager which includes overseeing all guide operations, avalanche assessment, and forecasting.
He looks forward to sharing his passion for the mountains with you and enjoying some good turns together.
EMILY CARROLL
JAPAN TRAVEL MANAGER
No one is more passionate about Japan and travel than Emily. She has spent years living and working in Japan as an English teacher and before that on exchange through High School and University.
Her knowledge of Japan and fluency in the language means that you get the best possible advice and a fantastic holiday. 
" Julian and Taneli were AWESOME! They went above and beyond to make sure we found fresh powder
every day
"